Disinfection Services for Commercial Properties in Langley, BC
Our extensively trained teams are certified by our Trauma & Bio-Recovery or the National Institute of Decontamination Specialists (NIDS) to eliminate harmful bacteria and viruses that can be found commercial spaces. We handle outbreaks like COVID-19 with the utmost care and determination in order to make your company's space safe during these difficult times. Let us help your business stay operational and keep your employees stay.
Keeping Your Company Safe
Paul Davis sees your well-being as a top priority, especially now that the novel coronavirus presents universal harm to your organization, employees and customers. We're always paying attention to updates coming from the Centers for Disease Control and Prevention (CDC), World Health Organization (WHO) and first responders in the medical field for the latest recommendations. Therefore, we can better perform sanitation services that are instrumental to the well-being and safety of your business.
We Keep Safe for You
Transmission of COVID-19 is quite easy when in close proximity to an infected person or when you touch your eyes, nose or mouth after being in contact with a contaminated surface. The contractors at Paul Davis maintain good hygiene and adhere to CDC guidance to make sure that we keep our customers safe. We use hand sanitizer consistently, wash hands for 20 seconds with soap, disinfect surfaces and keep a safe distance of six feet from other people.
You Can Help Us Keep Everyone Secure
For the purpose of keeping all individuals safe, you can help us out with things too. Prior to your appointment, you can talk about any challenges you have or request that we take special precautions. Please let us know if anyone has been dealing with health issues like cold or flu symptoms. We're familiar with cleaning and applying disinfectants, it's part of our job every day. We have the tools and equipment to eliminate viruses, bacteria, microbial growth and other pathogens, so you can trust us to provide cleanliness for your building.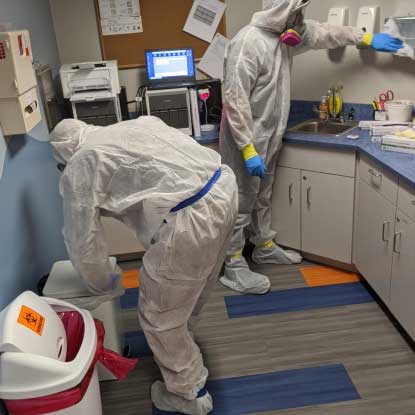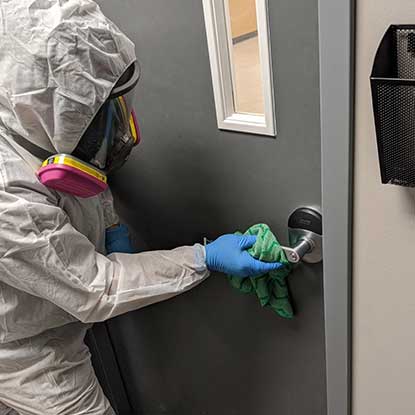 Contact Us Today
Today, viral infections are a major health hazard to society. Commercial sanitation services are excellent for restoring safety and serenity. Call our experts contractors at 604-427-3133 for more information about the steps we're taking to address the COVID-19 outbreak. We have the professional training needed to completely disinfect your building.