Disinfection Services for Your Business in Lethbridge and Southern Alberta
Sanitize your commercial space in the Lethbridge and Southern Alberta with help from the Paul Davis team. COVID-19 is a legitimate threat to public safety and we're doing our part to help you protect your business by providing industry sanitation services. During this national and international pandemic crisis, we're in an exclusive position to offer the comprehensive cleaning services our community needs to stay safe.
Maintaining Safety for Your Business
Paul Davis sees your well-being as a top concern, especially now that the novel corona virus presents universal harm to your company, employees and customers. We're always paying attention to information coming from the Centers for Disease Control and Prevention (CDC), World Health Organization (WHO) and first responders in the medical field for the latest guidance. In this way, we can better execute decontamination procedures that are conducive to the health and safety of your business.
We Take the Necessary Steps for You
Our goal is to keep you and your loved ones safe, especially as we're all going through the effects of the corona virus pandemic. Our commercial disinfection services in Lethbridge and Southern Alberta consist of:
Sanitizing your building by properly applying disinfectants
We are EPA and FDA approved to combat bacteria and viruses
We meet stringent standards
Additionally, we use the latest techniques in industry-standard cleaning to provide more the finest results. These consist of:
ULV Fogging: This is a preventative service that disinfects walls, floors and other horizontal surfaces.
Fogging with Horizontal Surface Wiping: For surfaces that undergo a lot of touching such as desks, telephones, computers, etc.
Fogging with Full Wiping: Industry accepted measures for confirmed cases of COVID-19. This is a extensive cleaning service that utilizes disinfectants to clean your facility.
Help Us Keep Everyone Safe
In order to keep all individuals safe, you can help us out with things too. Prior to us coming over, you can address any concerns you have or even ask us to take special precautions. Please inform us if others in the building have been dealing with complications with their health such as a cold or flu. We're familiar with cleaning and applying disinfectants, it's part of our job every day. We possess the tools to eradicate viruses, bacteria, microbial growth and other pathogens, so you can trust us to provide cleanliness for your building.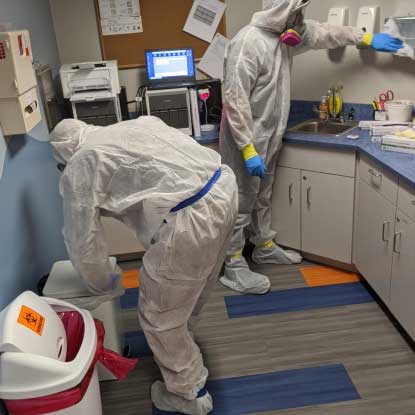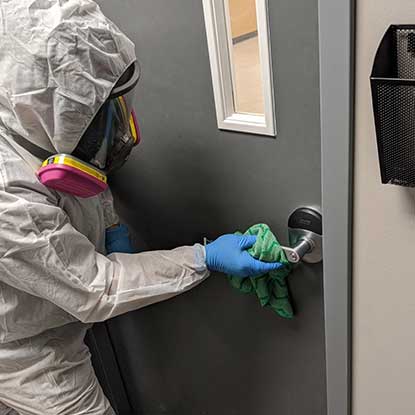 Contact Us Today
Today, viruses are a serious danger to our communities. Commercial sanitation services do a great deal to restore safety and peace of mind. Contact our specialists at (403)320-5744 for more information about the precautions we're taking to address the COVID-19 outbreak. We have the expert training needed to thoroughly sanitize your building.