Disinfection

Services

for

Commercial

Properties

in

Chateauguay, 

QC

Disinfect the surfaces in your commercial property in the Chateauguay, QC, area with assistance from Paul Davis. COVID–19 presents a serious danger to public health and we're doing our part to help you protect your business by offering industry decontamination services. During this national and international pandemic crisis, our team is in a unique position to provide the comprehensive cleaning services our community needs to stay safe.
Maintaining Safety for Your Business
Here are a few of the ways we maintain your safety in the Chateauguay, QC, area:
We Take the Precautions for You
Here at Paul Davis, we make sure to take all the necessary precautions in keeping good hygiene. We abide by the guidance set by the CDC and wash our hands consistently for 20 seconds with soap, put on hand sanitizer, maintain a recommended distance of six feet from people and clean surfaces that come in contact on a consistent basis.
Our objective is to provide safety to organizations within the Chateauguay, QC, area, and this is even more crucial with COVID–19. This is how we can help out your business:
Our reliable technicians will clean your building by applying disinfectants extensively.
We are EPA and FDA approved against most common viruses and bacteria.
We meet stringent standards.
You
Can
Help
Us
Keep
Everyone
Safe
If those working in the building are undergoing indications of a cold or flu, please let us know in advance. Paul Davis specializes in cleaning and disinfecting a wide range of commercial properties across the Chateauguay, QC, community. You can trust us to remove pathogens, microbial growth and viruses from all surfaces.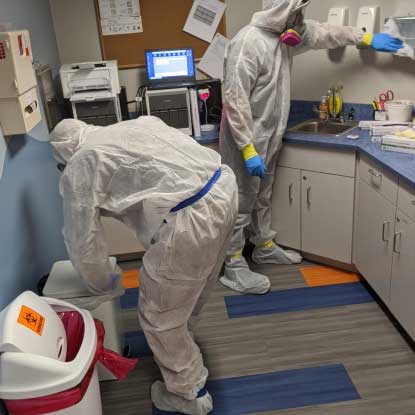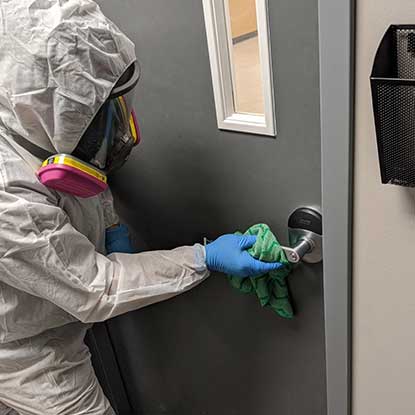 Reach
Out
to
Us
Today
Viral and bacterial infections are a serious risk around the globe, but having a sanitation program will help remove the risks in your building. Contact Paul Davis now at (450) 698-3700 and our expert our team will help you fight COVID–19 by making your facility safe. We are qualified when it comes to sanitizing commercial properties and we'll provide you with quality results.