Disinfection Services for Your Company in Essex, ON
Clean the surfaces in your commercial property in Essex, ON, with assistance from Paul Davis. COVID-19 presents a serious threat to public safety and we're doing our part to help you protect your business by offering professional sanitation services. During this national and international pandemic crisis, Paul Davis is in an exclusive position to provide the comprehensive cleaning services our community needs to be safe.
Mainting Safety for Your Commercial Space
These are some of the strategies we're following to help businesses in the Essex, ON, area:
Applying disinfectants and sanitizing: Paul Davis does this with regularity using advanced tools that are designed to kill pathogens and viruses, such as COVID-19.
Taking the correct precautions: We'll do our part and ensure that our staff is in good health and do what's necessary to safeguard you from getting ill. We put on face masks and avoid bringing contaminants into your home by wearing covers on our shoes.
Provide information: We'll provide information about precautions you can take to keep everyone safe. Our staff is available for questions when it comes to coronavirus and we'll provide answers in compliance to the most recent information.
We Take the Precautions for You
We aim to keep you and your loved ones safe, especially as we're all going through the effects of the coronavirus pandemic. Our commercial disinfection services in Essex, ON, consist of:
Cleaning your commercial property by properly applying disinfectants
We are EPA and FDA approved against bacteria and viruses
We meet strict standards
In addition, we use the most advanced techniques in industry-standard cleaning to provide more superior results. These consist of:
ULV Fogging: This is a pre-emptive approach that disinfects walls, floors and other horizontal surfaces.
Fogging with Horizontal Surface Wiping: For surfaces that undergo a lot of touching such as desks, telephones, computers, etc.
Fogging with Full Wiping: Industry approved steps for validated cases of COVID-19. This is a extensive cleaning service that utilizes disinfectants to clean your facility.
Help Us Keep Everyone Secure
If any employees are undergoing cold or flu symptoms, please inform us in advance. Paul Davis specializes in sanitizing and disinfecting a variety of commercial properties across the Essex, ON, area. You can rely on us to get rid of pathogens, microbial growth and viruses from every surface.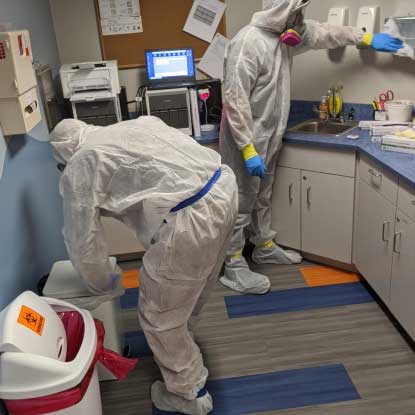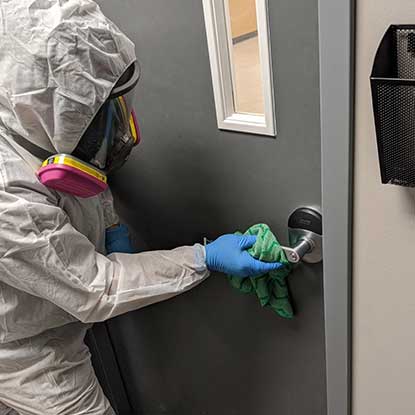 Reach Out to Us Today
Today, viral infections are a serious danger to society. Commercial decontamination services are great for restoring safety and peace of mind. Contact our specialists at (519) 776-4567 to learn more about the safety measures we're taking to address this pandemic. We have the professional training needed to thoroughly disinfect your commercial space.